The Company was founded in 2014 with a national corporate office and warehouse in Lindon, Utah and an office and warehouse in Ft. Pierce, Florida. We have developed non-invasive photomedicine technology that are used in medical professional practices. The Company has grown to become a national leader with over 1,000 medical customers. The national office includes a Product Showroom and Classroom for Onsite Education and Training.
Aspen Laser is currently FDA registered and holds two FDA 510K clearances. Additionally, we are ISO 13485 compliant and nearing ISO certification. Aspen Laser is registered with the BBB (Better Business Bureau) and holds an A+ rating. In 2021, Aspen Laser was the first Class IV laser named as a Space Certification Partner.
Aspen Laser partners with healthcare professionals to bring the best and newest technology with advanced training and support that maximize clinical and financial outcomes. Aspen Laser is committed to research and development that will provide long term success and drive change in medicine by raising standards of medical care, with the goal of improving the quality of life of every patient using our products. Aspen laser is committed to becoming and remaining an innovative leader in medicine: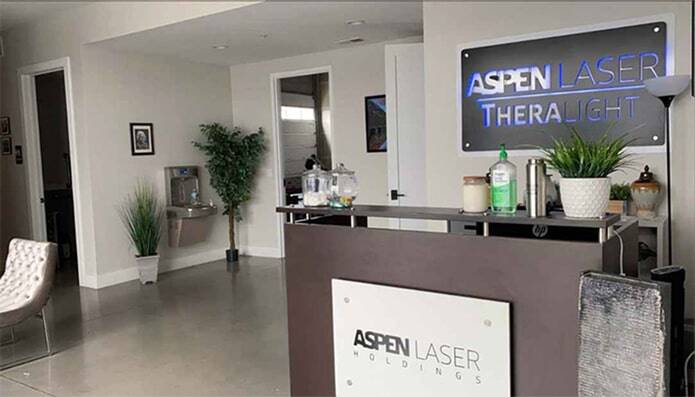 Patented Technology

FDA CDRH Form 2877 Approved

Dun & Bradstreet D-U-N-S Number Assigned (available upon request)

SAM Registered with Federal Government (copy available upon request)

Cage Code Number Assigned (available upon request)

Company FDA Registered: Establishment Identification Number (FEI) Issued (available upon request)

FDA Accession Number Issued (available upon request)

FDA CDRH Form FDA-2877 On File with the FDA (copy available upon request)

North American Industry Classification System (NAICS) Number Utilized (available upon request)

Certificate of Conformity (COC) Complete Form (copy available upon request)

Harmonized System (HS) Codes Utilized (available upon request)
Aspen Laser boasts two beautiful offices, strategically located in opposite sides of the United States to best service our ever-increasing customer base. Our 5,800 square foot facility located in Lindon, Utah, serves as our Company headquarters, where most of our corporate staff operates out of. Our smaller facility located in Fort Pierce, Florida, serves as our shipping and repair center. Each location has been important to the growth and success of Aspen Laser.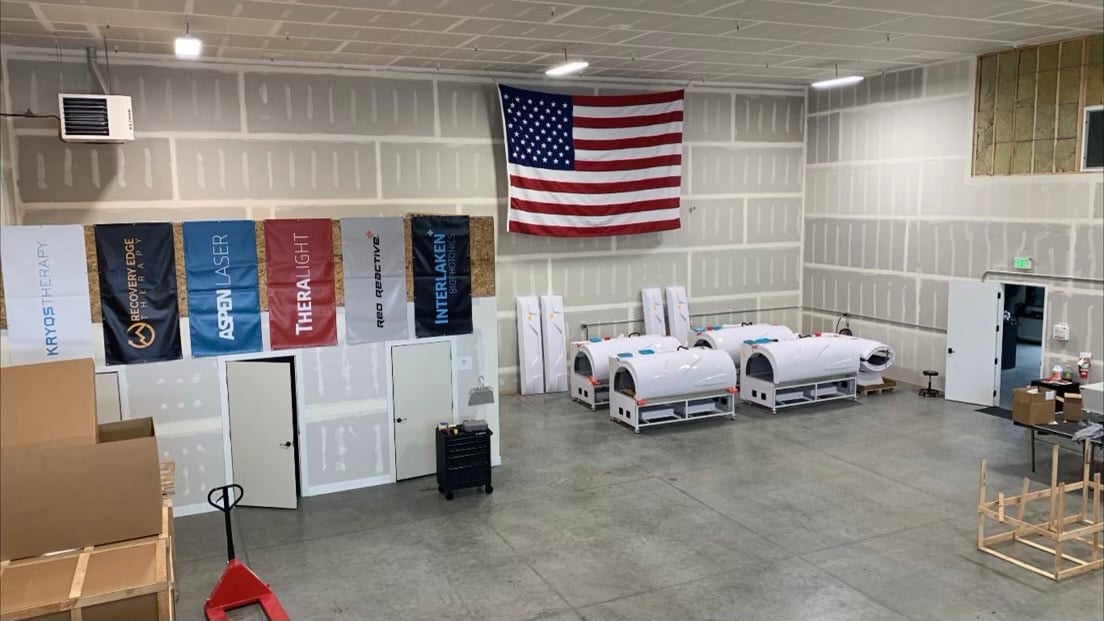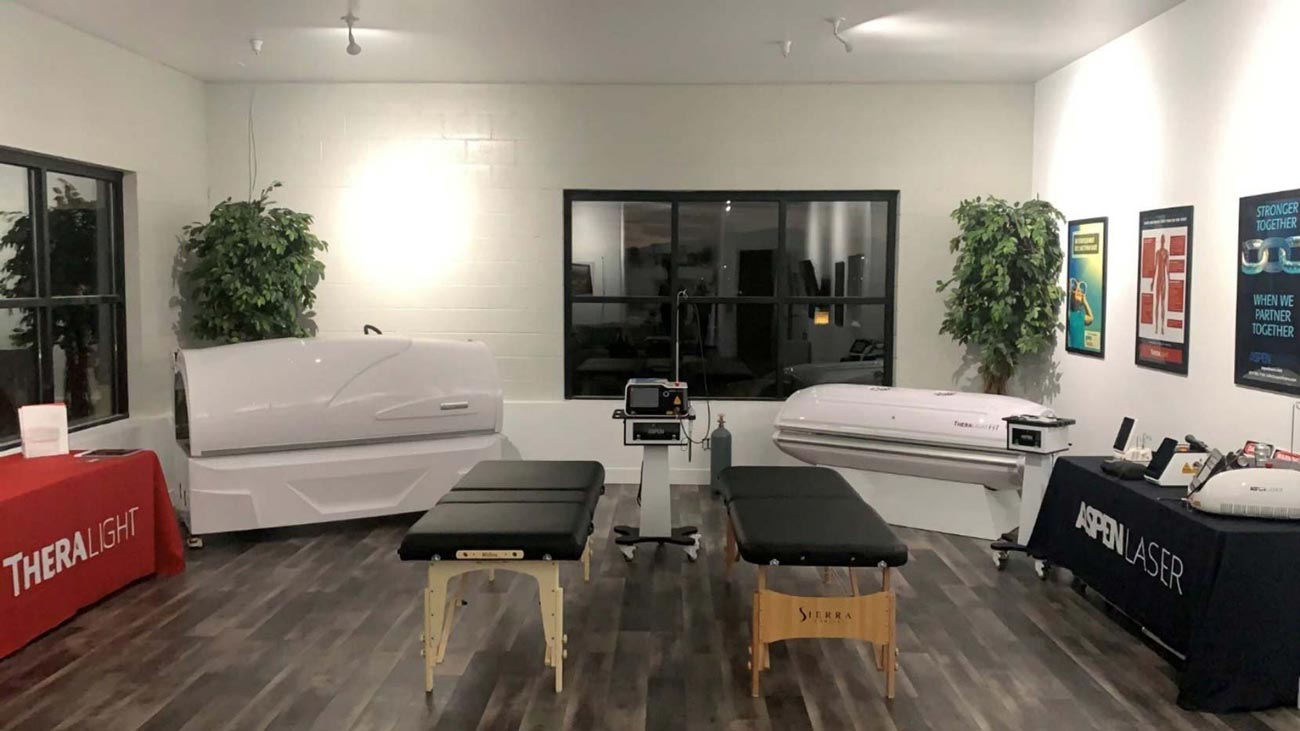 Visit our Showroom!
Our beautiful 1,200 square foot Product Showroom was specifically designed with you in mind! We invite you to come to our Headquarters to see and try our products for yourself. We are so confident you will love our systems that we have a standing offer to pay for your travel and more! Yes, we offer a credit towards your purchase of 1.5x what you paid to come see us. In addition to the Aspen Laser, we offer products in other pain management categories. As a non-attended device, our TheraLight systems are the perfect complement to your laser purchase.
We ship as soon as you pay! Unlike other competitors, our products are not built-to-order; rather, we always have healthy inventory of each of our products. As soon as you are ready to receive the product, we time or shipments to meet your deadlines. We know that time is money and the longer you wait to receive your product, the longer you wait to receive the benefits; both clinically and financially. All Aspen Laser products can ship within 24 hours of payment for a 1-3 day transit time to your location.
Certifications and Awards

Small Business Certification
The Small Business Certification is issued to companies that meet specific criteria and are approved each Fiscal Year by the USFDA Center for Devices Radiological Health (CDRH) Small Business Program.

Inc. 5000
Inc. 5000 Recognizes Aspen Laser for Additional Industry and Regional Rankings: Company is listed in additional rankings including #162 on the Healthcare National List; and #65 on the Utah and #28 on the Provo Regional Lists Aspen Laser for Additional Industry and Regional Rankings - Company is listed in additional rankings including #162 on the Healthcare National List; and #65 on the Utah and #28 on the Provo Regional Lists.

2019 Global Health & Pharma Award
The Global Health & Pharma Awards recognize all levels and aspects of the healthcare and pharmaceutical sectors for their life-changing innovations and developments.

2019 Top 100 Chiropractic Products
Each year the readers of Chiropractic Products select the Top 100 Chiropractic Products of the year. Selection is determined by responses collected and received by Chiropractic Products Magazine over the course of the year.

The D&B D-U-N-S® Registered seal is an electronic mark on a company website that with a click displays information about the company that has been verified and validated by Dun & Bradstreet. It lets potential customers, suppliers, business partners know that the business is credible.

Inc. Verified Profile
An Inc. Verified Profile means that Inc., has independently confirmed that the business is operational, websites are functional, social media links and phone lines work, content is appropriate, and no obvious red flags exist. It also includes information about the company, management, and products.

Aspen Laser Systems Recognized by MobiHealthNews

A member of the American Society for Laser Medicine and Surgery, Inc.
The Aspen Laser name is derived from the landscapes of Aspen, Colorado, consisting of some of the most beautiful mountains on earth. Historically, mountains symbolize eternity, solidity, obstacles, and overcoming challenges. Aspen Laser was originally founded in Denver, Colorado, whose members where long time residence of the state.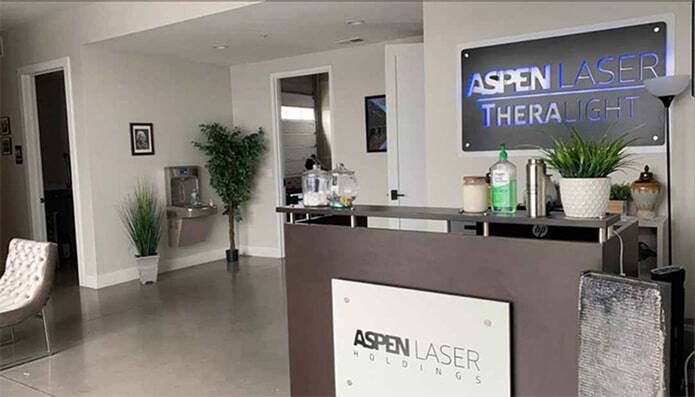 Join Us On Our Journey. Together We Can Achieve Even More.
We would like to sincerely thank you for your interest in our products and company. At Aspen Laser Systems, we are passionate about Photo-Medicine and specifically Photobiomodulation Therapy and what it can do today and what innovation it can bring to the future. Treatments provided by Aspen Laser Systems are emerging as a safe and effective alternative to narcotics and other drugs by providing light energy into diseased or injured soft tissues, stimulating the body's natural ability to heal itself without side effects…
Committed to the Best
With over 30 years of manufacturing experience, Aspen Laser is committed to delivering the highest quality components at the most reasonable price. We source our components from all over the world, choosing only the best from very reputable countries such as the US and Germany.
We understand the physics of light better than anyone, which means you can be rest assured that not only are you getting the best outcomes but a system that is built to last for years and years. Our best in class, five year warranty, should provide just that.
Aspen Laser is ISO compliant, FDA registered, holds two FDA clearances, and passes all safety compliance requirements.
FDA Company Registration: Current Certificate Available
Registration Number: 3011387816
Aspen Laser Status: Current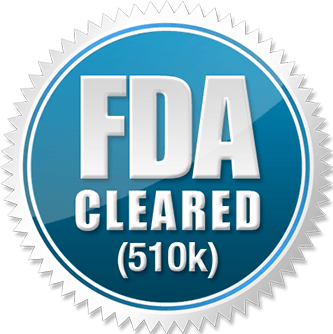 Become an Aspen Laser Provider
See how Aspen Laser Systems can help you redefine pain management and recover for your patients.
Laser Safety Training Program Now Available
We have partnered with Laser Safety Certification, Inc, a nationally recognized laser safety consulting company, to develop a new and
exclusive "3 in 1" Laser Safety Training and Certification Program.