Advanced Laser Therapy System

s
The Latest in High Intensity Laser Therapy from Aspen Laser
The Apex Tri-Wave Laser Series is the world's first and only laser device of its kind. Featuring three therapeutic wavelengths of 810nm, 980nm, and 1064nm, this unique system is changing the way healthcare professionals treat pain and injuries. The Apex Tri-Wave incorporates 15 watts of high power with each wavelength for a total output of 45 watts. With PowerDose Diodes, Wavelength MultiPlexer Technology, and Patient Driven Response (PDR) Protocols, the Apex Laser Series gives you a powerful, versatile device that drives the best outcomes for all patients.
Available in: 30 Watt – 30 Watt Dual Wavelength – 45 Watt – 60 Watt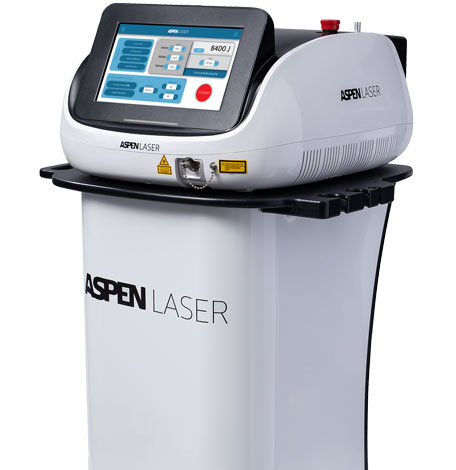 Pinnacle Laser
System Series
The Pinnacle Series Laser System features class IV laser therapy technology that can deliver more energy than other lasers. The additional power, coupled with our optimal wavelength and treatment beam size, results in deeper penetration, significantly faster treatment times, and delivery of the proper therapeutic dosage. The Pinnacle Series features the broadest laser power range from 1 to 60 watts, allowing professionals to adjust to the optimal dosage level for each patient. These features provide healthcare professionals an enhanced ability to treat difficult conditions and ultimately provide better clinical outcomes to all patients.
Available in: 30 Watt – 30 Watt Dual Wavelength – 45 Watt – 60 Watt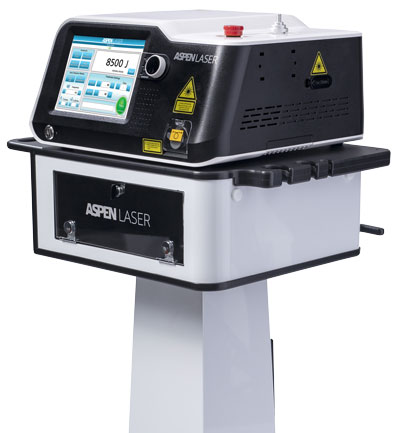 Summit Laser
System Series
The Summit Series is a specially designed laser system that can perform superior class IV laser therapy treatments. By simply switching probes and changing treatment protocols in the easy-to-use touch-screen software, the Summit Laser System will stay busy working for you all day long. This versatility makes it the perfect fit for just about any medical practice, regardless of discipline. The Summit Series Laser System is easily transportable for effortless moving between treatment rooms, and it includes a wheeled travel case for transport from location to location.
Available in: 10 Watt – 15 Watt – 20 Watt– 20 Watt Dual Wavelength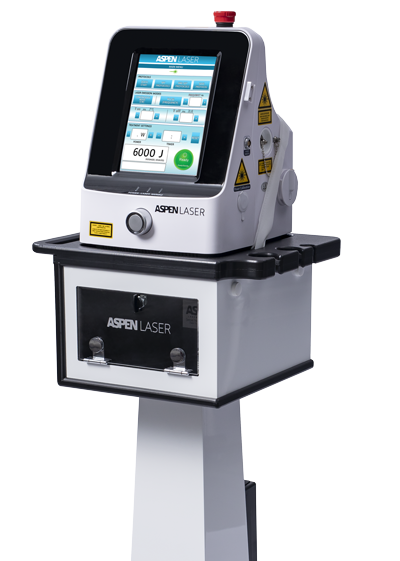 Discover more of the science behind Laser Therapy
Our online resource, Aspen Laser University, offers a look into the history and science of light and laser therapy, including the latest research and innovations.
The Upgrade Plus Program provides protection for your investment in purchasing an Aspen Laser System. Certain laser models from Aspen Laser Systems can be upgraded to a higher power within the Warranty Time Period of the laser. With each upgrade, the laser will be cleaned and recertified. The cost of the upgrade is calculated as the difference between the original purchase price and the original retail price.
Qualifying Lasers: Single Wavelength Models Only
Summit 10 watt laser: upgrade to a 15 watt laser or upgrade to a 20 watt laser

Summit 15 watt laser: upgrade to a 20 watt laser

Pinnacle 30 watt laser: upgrade to a 45 watt or 60 watt laser

Pinnacle 45 watt laser: upgrade to a 60 watt laser
Contact us for more information about this exciting program!
The Aspen Laser Warranty
All lasers now come with an enhanced 5-year warranty to provide any and all necessary product repairs upon Aspen Laser Systems examination and final determination as to the cause or existence of a defect and, at its option to repair or replace the products, which prove to be defective during the warranty period. Additionally, handpieces and fiber optic cables come with a standard 1-year warranty.
Get Started with Aspen Laser Systems
Contact our laser experts to learn more about adding Aspen Laser Systems' services to your practice.
Laser Safety Training Program Now Available
We have partnered with Laser Safety Certification, Inc, a nationally recognized laser safety consulting company, to develop a new and
exclusive "3 in 1" Laser Safety Training and Certification Program.